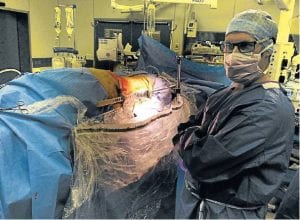 A world-first operation using advanced software and clever robotics has demonstrated the benefits of a new approach to spinal surgery.
Last month, at The Valley Private Hospital in Melbourne, Dr David Edis used a breakthrough development in the Mazor Renaissance Robotic Guidance system to undertake an entire spinal operation with the patient lying on their side, reducing the time needed for the procedure.
''This addition to the Mazor Renaissance system, the PROlat mounting option, means we don't have to turn the patient face down halfway through the operation,'' Dr Edis says.
''Not doing 'the flip' saves about 60 minutes, which means less time under anaesthetic for the patient.''
Many degenerative problems of the spine occur when the cushioning discs between the vertebrae become damaged or diseased.
This may reduce space between the vertebrae and compress nerves that branch off from the spinal cord, causing chronic back pain.